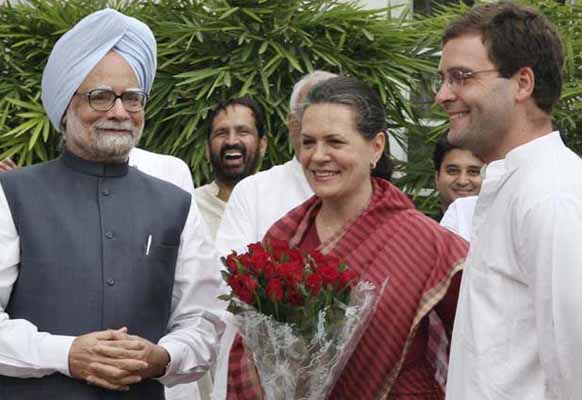 Dr.Manmohan Singh and the Congress party has defied all odds and has captured power at the centre with a clear mandate.Hoards and hoards of opinion polls and exit poll surveys unanimously predicted a hung assembly with smaller regional parties playing kingmakers.This was perhaps the most feared outcome for any party coming to power.With the economy at doldrums, investors and industrialists alike wanted a stable government that can act with conviction and courage to take on the economy. At the time when other countries are racing against time to fix their respective economies,India was readying itself for the largest democratic practise in the world- the General Elections.
Election campaigns appeared to be a sum total of hate speeches,name calling, anti-democratic movements, petty regional politics and ego clashes. Somehow or the other,political parties wrongly concluded that these kind of campaingns will win them seats and make them eligible for hard bargain for power at the centre.
But the most fascinating outcome of elections 2009 was a marked change in the psychology of the common voter who vehimently seems to have opposed all those who have tried to create chaos and confusion at the centre once the elections gets over and done with. LK Advani,BJP PM candidate who superficially denounced the hate speeches by Varun Gandhi didnot take adequate steps to clean the party's image of a fundamentalist Hindu group. Many in the BJP, even believed that this kind of hate speeches will win them votes. But they were once again proved wrong by the uncharacteristically mature UP voters. Congress's strategy to go alone in UP and Bihar, have alliances with NCP,TMC and DMK in Maharasthra,West Bengal and Tamil Nadu respectively paid off handsomely.
Congress won the main battle by a huge margin with the help of gains from West Bengal,Tamil Nadu, Andhra Pradesh,Uttar Pradesh, Rajasthan,Kerala and Maharashtra.People have voted for the good clean image of PM Manmohan Singh, an able political leader in Sonia Gandhi and the future hopeful in Rahul Gandhi. Now its time to motor along with all the important works in economy,education, infrastruture,foreign relations,health care and terrorism which includes internal security.
The PM has his hands full with a wayward economy,threat from all sides of our border,poverty and educational reforms,to name a few.This clear mandate which even the Congress didnot dream is a lifetime oppurtunity for someone like Dr.Singh and his cabinet colleagues.The cabinet allocation seems to take ages but it better to take some time and choose the best ones rather than giving berths to the ineffective.But once the allocations are over, a coordinated action on all fronts is required. This is "Singh is king" time and he must seize the oppurtunity which he didnot have in 2004.
Finally, all this was possible because of one independent body called the Election Commision of India, which did a fabulous job in helping voters choose their best candiddates.They deserve a big round of applause for their worthy contribution to our democracy.